Single Ply TPO & PVC Heat Welded
CARLISLE SURE-WELD TPO FleeceBACK membranes with FAST Adhesive offer an Excellent Roofing System upgrade when used in reroofing applications over existing mineral cap sheets or modified bitumen systems here in Hawaii. With wider sheet availability, seams are reduced by 75% with 12'-wide Sure-Weld FleeceBACK TPO membrane. The polyester-fleece reinforcement provides proper separation between the old roofing system & the new FleeceBACK membrane resulting in a 30-40% increase in overall puncture resistance. Sure-Weld TPO membranes are available in whit, which is highly reflective & will afford substantial energy cost savings when compared to the darker, less reflective mineral cap & modified bitumen membranes. Sure-Weld FleeceBACK TPO membranes are heat weldable for quick & easy installations and are free of chlorine & plasticizers making the roofing assembly ENVIRONMENTALLY FRIENDLY. FAST Adhesive is a spray-applied or extruded, water blown insulating adhesive that expands into the granular surface resulting in a tenacious bond.
* UL and FM ratings
* Minimal fastening requirements
* Insulating FAST Adhesive add an R-Value of 0.20 to 0.50 per layer enhancing thermal efficiency and energy co ing cost.
* Strong heat-welded seams.
* Weighs less than 1/2 lb. per sq. ft.
For More Info: www.carlisle-syntec.com
some of our TPO Installs here on Oahu, Hawaii
Heat Reflective BUR. a Built Up Roofing System.
Move Forward With Ecotorch. The New torch-applied roofing membrane that reduces call-backs, and tires in the landfill. Ecotorch is an innovative torch-applied membrane that truly contributes to the environment. Incorporating recycled tires into SBS modified bitumen, ecotorch is a more durable, dependable, and eco-friendly roofing membrane than APP modified bitumen membranes.
ecotorch is designed as a superior modified bitumen torch-applied roofing membrane (with appropriate base sheet or interplay sheets) for flashing, new roofing, & re-roofing applications. It's also an ideal membrane for repair of built up roofing membranes.

For more info go to: www.mbtechnology.com
Liquid Applied Roofing System over a waterproofing membrane.
ENVIRONMENTAL ROOFING SOLUTIONS Roof Coating.
ERS roof coating AM1-PA-252-H15 is a highly reflective Cool Roof Restoration System that is designed to provide an ENERGY EFFICIENT, Waterproofing membrane over existing roof surfaces.
This system is intended for older roof surfaces here in Hawaii that have become weathered & deteriorated yet have maintained their structural integrity.
The application of this highly flexible elastomeric roof system can drastically reduce roof top temperatures, lower cooling demand by up to 50% increase the life expectancy of existing HVAC systems, and provide a sustainable roof membrane with extendable warranties.
This seamless restoration system is ideal for use over existing Hawaii built up roof systems (hot & cold applied) and modified bitumen roof membrane systems (SBS and APP membranes). Roof must maintain positive drainage & should not retain ponding areas as defined bythe NRCA.
Some of our Oahu HAwaii residential and commercial low to flat slope installs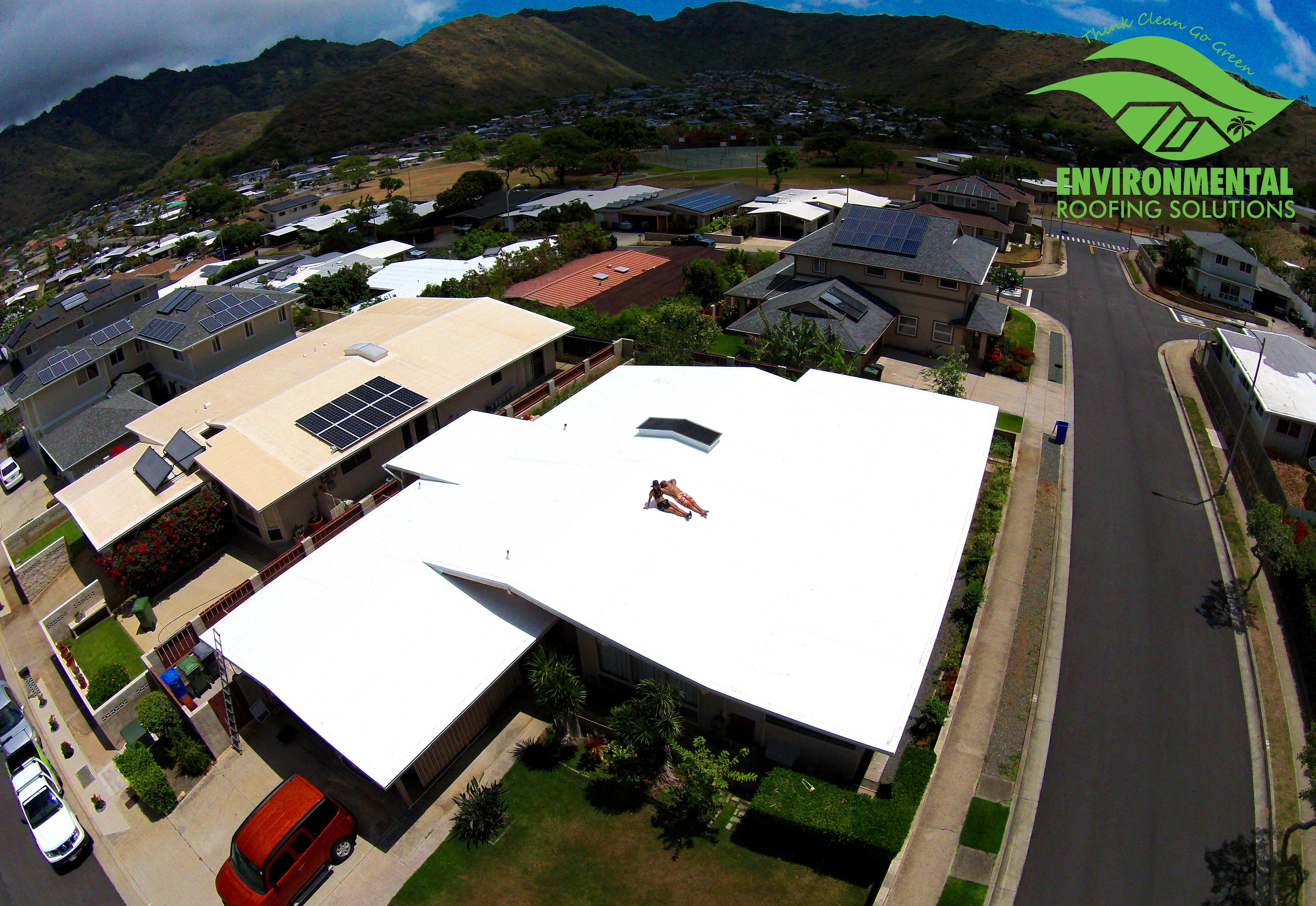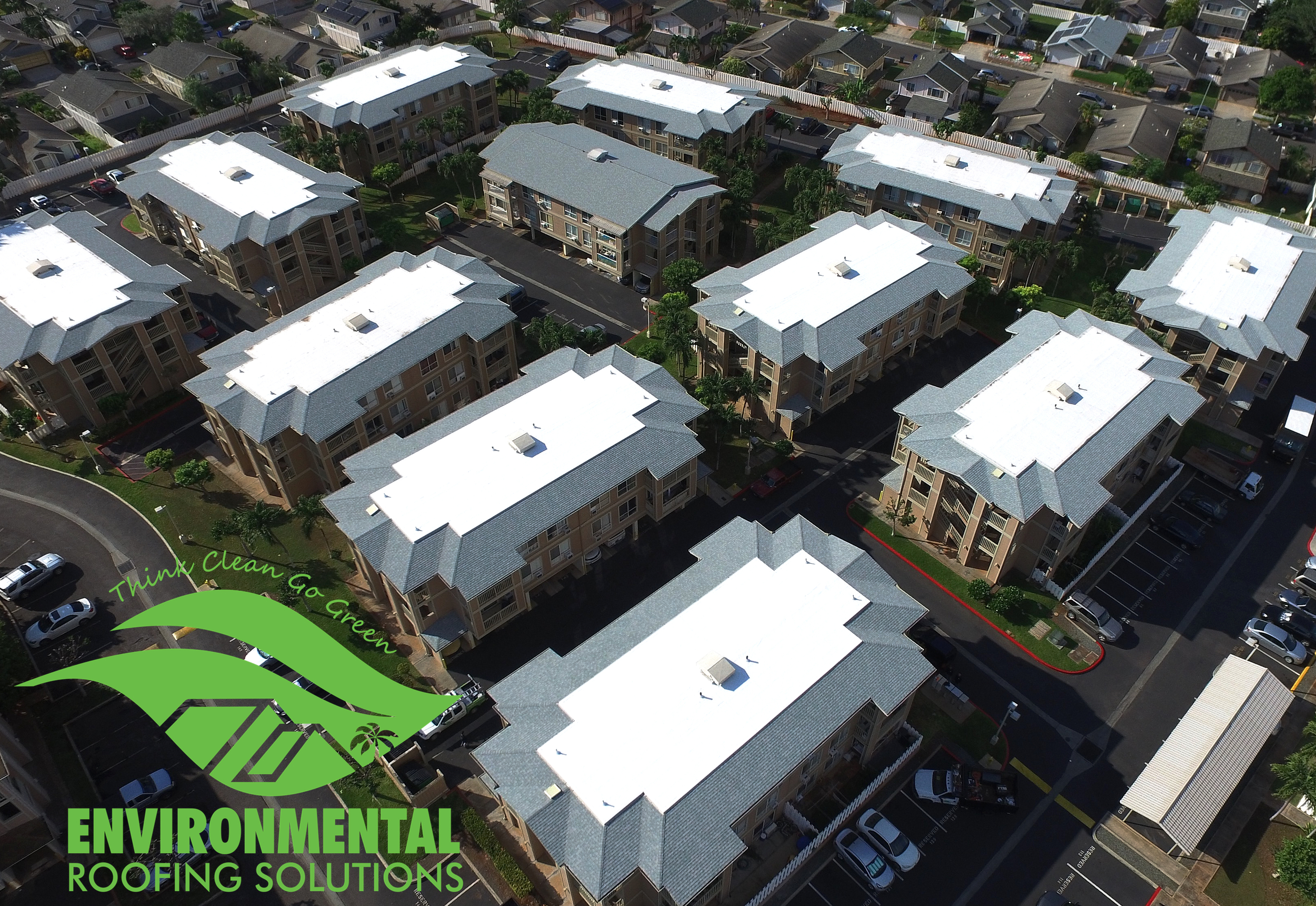 For A FREE Estimate CLICK below
Or Call (808) 799-6089 or (808) 227-7775 Cell, to schedule an appointment.
We are an authorized Hawaii contractor for a 12 Month No Interest, No Payments. Than enjoy interest rates as low as 6.75% APR.* at: